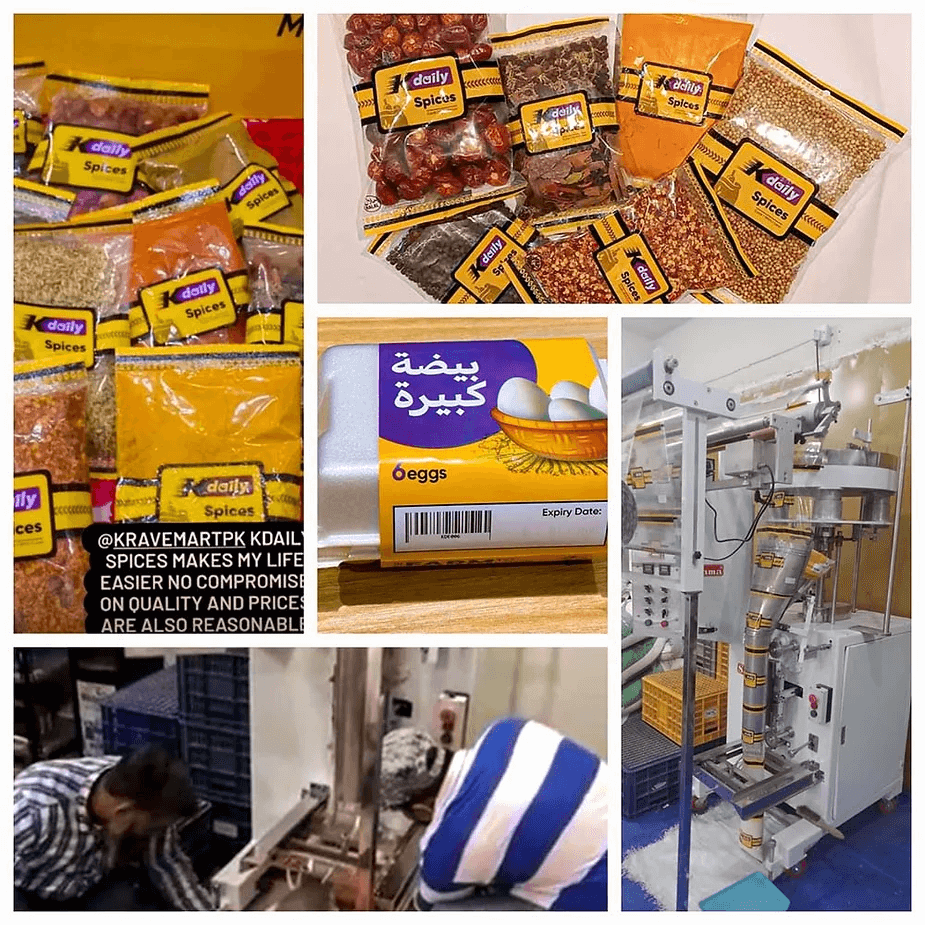 Krave Mart entered the Private Label Market a few weeks ago, catering to the customer demand with respect to high quality products at affordable prices.
Krave Mart launched operations with 16+ categories, with 3,000+ products, housing 100s of brands. The product mix for the customer base ensured a mix of food and non-food items required in everyday life. This is where Krave Mart ventured into the Private Labeling initiative.
Starting off with basics such as daily spices and cooking essentials which included eggs and sugar, Krave Mart successfully launched 100+ private label products, aiming to give their customers premium quality products; packed with love.
Current private label products include:
Kdaily (Spices, Eggs, Lentils, Value Added Flour & Dry Fruits).
Kfresh (Fruits & Vegetables, Exotic range of F&V).
More products in the pipeline.
As a matter of fact, Krave Mart was also able to double its margins for these categories , which proves to be key composites for Krave Mart's sustainability and achieving profitability in the current landscape.
"With 100+ private label SKUs live on the platform today and increasing, the backward integration has enabled us to significantly improve on our availability ratio, keep quality controls in check and double down on our margins to drive sustainable growth." Ahsan Kidwai (Co-Founder & Chief Commercial Officer)
Krave Mart is by far the quickest eCommerce/online platform in the Region to launch a wide range of private label products and with this, they were able to cater to sporadic stock shortages, which is a common feature amongst certain grocery brands.
As Kidwai stated: "Venturing into the private label landscape was a strategic move, in an attempt to offer our customers the finest quality, phenomenal value, with convenience at their doorsteps!"
What is Private Labeling:
Private labeling involves championing procurement, sorting and packaging in-house and thereby selling it under an owned custom-made brand label.
Private Labeling comes with promising advantages which benefits organizations with:
Customer Loyalty: It instills the sense of belonging in the existing consumers as they feel part of the few that have access to the limited edition products; thereby increasing loyalty and sales volume.
High margins: Private labeling definitely yields higher margins as there are no branding and packaging premiums attached to the products being sourced directly.
Exclusivity: Private labeling gives complete liberty to promise exclusivity to customers in terms of branding, good marketing and creating its demand that in terms gives an edge over branded retail products.
Krave Mart believes in customer centricity and delivering the right product mix, as a result of which all their stakeholders share the same objectives towards sustainability and quality production.
Private Labeling is the future of consumer products, with an opportunity to even become the category leader as brands (owning private labels) already have access to consumer patterns, insights and preferences that might not be as accessible to FMCG manufacturers.